Intelligent, Hands-Off RCM Services for Cardiology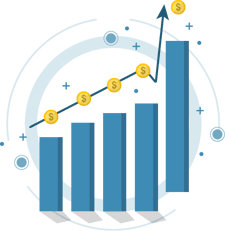 Cardiology and its high-value procedures calls for an RCM service that can capitalize on those procedures through maximized coding, especially when patients are now among the largest groups of payers. For that reason, you'll want the most from your coding, and then a way to virtually guarantee patients will pay their portion after insurance.
MedicsRCM has the tools and know-how to accomplish both, typically increasing our clients' revenue by 10-20%, and sometimes by up to 30%.
Our financial services support:
a nearly 100% success rate on first attempt clearinghouse claims
continual audits make certain that claims are submitted at their highest possible value without over-coding
pre-appointment batch verification of benefits to ensure eligibility
pre-appointment out-of-network alerts based on the provider or the procedures to be performed
displaying copayments while scheduling appointments
a patient / client personal responsibility estimator helps capture those amounts due based on your financial policies

on exiting, a much more accurate amount

can be provided

accepting credit and debit card payments onsite or by phone
claim tracking to ensure your claims are being processed
rapid denial management with edits and resubmissions quickly denials into revenue
immediate patient-due statements as insurance(s) reimburses
secure online payments through our portal
patients / clients contact MedicsRCM with statement questions
On the operations side, MedicsRCM's clients have transparent, on-demand access to all of their data. They can use MedicsRCM's:
MedicsRCM supports single or multiple tax IDs, and an unlimited number of locations.
EHR versatility: Our clients can use their existing EHRs interfaced with MedicsRCM, or the fully integrated MedicsCloud EHR from Advanced Data Systems Corp., or no EHR with our system's electronic superbill.
Let's talk about your needs and expectations, and how MedicsRCM from Advanced Data Systems RCM can help. Simply complete the form, and we'll be happy to provide a no-cost assessment and customized quote for cardiology practice or group..
"The ADS MedicsRCM team has consistently achieved for us an unheard of 100% collections on our contracted rates year after year. We couldn't be more pleased for their guidance and quality of service."

Leasiah Griffith, Practice Administrator
Bethpage, NY