Get Every Maximized Dollar for Every Visit, and More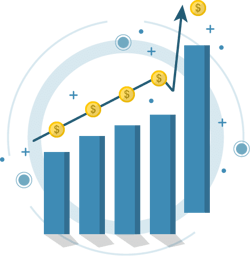 If an RCM company assists in capturing every maximized dollar for every visit to your pulmonology practice, isn't that enough? What else can they possibly do for you?
Plenty, if it's MedicsRCM!
Besides typically increasing our clients' revenues by 20% - 30% while maintaining a general collections rate of 97%, MedicsRCM also supports:
a nearly 99% success rate on first attempt HCFA and UB clearinghouse claims
In

and

out of network

claims

triple filtering our clients' claims to ensure they're well-scrubbed which contributes to their high first time success rate
proactive alertsavoiding two troubling and expensive problems:

to re-code claims prior to submitting them

where there's a history of denials

by that payer, and
to select another provider while scheduling

the patient on the Medics

scheduler if the original provider isn't authorized

by the patient's insurance

scrutinizing each claim through our proprietary IntelliClaims™ enginemaking certain they're being submitted at their highest possible value to each payer without over-coding
a patient responsibility estimator for advising patients as to an approximation on what their amount due will be, avoiding surprises when their statements arrive and to perhaps obtain at least a partial payment in advance
pulmonology-specific EDI including pre-appointment batch eligibility verifications through the Medics scheduler, and almost instantaneous EOB reconciliations
real time claim tracking for our clients to ensure their claims are being processed by payers
denial management by editing and resubmitting claims within three business days of them being denied
client access to the Medics scheduler with its financial, management and workflow capabilities, and the optional Medics SMS™ texting of appointment reminders to patients / guarantors
patient statements with patients directed to call MedicsRCM if they have statement questions
comprehensive, pulmonary-specific financial and management key performance indicators (KPIs), reports and data displays
Yes…our clients have on-demand, anytime transparent access to all of their data. And, we train clients on how to use our Medics software enabling them to make the most of that transparency.
As for EHR, clients can retain their own interfaced to MedicsRCM, or use our 2015 certified Medics EHR at no additional cost, or use no EHR at all with our e-superbill for quick encounter data capture.
MedicsPortal and Kiosk are available keeping your clients engaged, connected and self-serving.
MedicsRCM supports multiple tax IDs as may be needed by your pulmonology practice, or a single tax ID for the practice.
Simply complete the form on this page to talk more and schedule a no-cost assessment on how MedicsRCM from Advanced Data Systems RCM can help improve things at your pulmonary practice!
"There was almost an immediate uptick in revenue (with MedicsRCM) which was extraordinary."

David Fischler MD
Pulmonary and Intensive Care Specialists of New Jersey
East Brunswick, NJ