Real World Class Medical Billing Services for Dermatology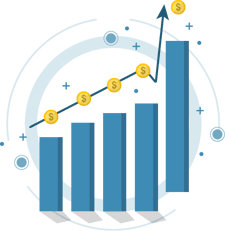 You almost certainly have medical and non-medical financial and management requirements to be handled, being in Dermatology.
Our clients rely on us to get every maximized dollar for every medical visit and non-medical treatment/sale. They typically enjoy a 10% - 20%, and even up to a 30% increase in revenue with MedicsRCM. And, new clients are transitioned without missing a beat in revenue and productivity!
Our services and features support:
transparent, on demand access to all of your data
a nearly 100% success rate on first attempt clearinghouse claims
claims for on-staff or contracted MOHS surgeons
ongoing auditing ensuring your claims are submitted at their highest possible value without over-coding
pre-appointment: out-of-network alerts and batch eligibility verifications
access the patient responsibility estimator while scheduling appointments
real-time claim tracking to ensure your claims are being processed
denial management with quick edits/resubmissions turning them into revenue
immediate patient statements as balances become their responsibility

patients contact MedicsRCM

with statement questions

MedicsPortal empowering patients to self-serve and make secure online payments
MedicsKiosk for streamlining intake
tax calculations by product/state for purchasable items
inventory management for medical supplies and purchasable products
gift cards and coupons; visits can also be pre-paid
calculating and billing for Aesthetician, Cosmetician, Botox, spa treatments
see medical procedures and non-medical services/purchases on a single view
Checkout window displays amounts due for medical procedures and non-medical services/products
Use our multi-modality scheduler for:

complicated, multi-layered MOHS

scheduling

"packaging" a patients' same day medical and non-medical

appointments

interactive reminder texts

option for dramatically

reducing no-shows
scheduling can be centralized

or by

place of servics

Comprehensive financial and management reports, KPIs, analytics, and dashboards

clients can compile their own reports

as well at any time

track marketing efforts with our system's CRM functionality
MedicsRCM supports our clients' single or unlimited tax ID requirements, as well as their single or multiple locations.
our system operates under master patient index (MPI) architecture to ensure there are no duplicate patients, and that the needed patient is correctly identified.
We're able to bi-directionally interface with virtually any EHR and our electronic superbill is ideal if there's no EHR.
Let's talk about your needs and expectations, and how MedicsRCM from Advanced Data Systems RCM can help! Simply complete the form, and we'll be happy to provide a no-cost assessment and a customized quote.
"The ADS MedicsRCM team has consistently achieved for us an unheard of 100% collections on our contracted rates year after year. We couldn't be more pleased for their guidance and quality of service."

Leasiah Griffith, Practice Administrator
Bethpage, NY