Turning In-Depth Data into In-Depth Data with MedicsAnalytics™!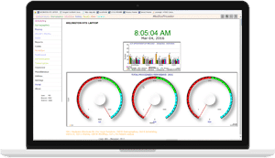 The data available from the Medics Practice Management (PM) system is extraordinary, with an impressive ability to quickly process information and turn it into meaningful statistics to help manage the business and financial sides of your practice or revenue cycle management (RCM) company.
Now with MedicsAnalytics, which is a built in, no-cost feature within MedicsPremier, users can take that already-impressive data and transform it into super-impressive business intelligence data.
MedicsAnalytics will redefine the ways in which data is traditionally used by presenting it in dynamic, stylized formats displayed in color-coded charts, graphs, and tables.
But it's not just the graphical formats in which the data is displayed that's impressive; it's how the information is presented on single view with the data at your fingertips! And, that the data is able to be drilled-into on a very granular level, if desired.
A variety of analysis reports and business performance management tools help to really manage your practice or RCM company by calculating and displaying data intelligently in dashboard format, keeping you up to date on a myriad of analytics, some of which include:
Executive Dashboards
Business Intelligence and Performance Management Tools
On-Demand Revenue Cycle Analysis Reports
Patient and Customer Medical Billing Reports
Key Performance Indicators (KPI) Benchmarking
Enterprise "Roll-up" and Divisional Reports with Aggregate Data
Physician Productivity and Practice Operational Data Displays
The Practice Administrator has control over which users can see and / or compile data.
There is no question that reports from your Medics PM system provide a wealth of information. Now you can turn those wealth-of-information reports into virtual works of art that will help manage and support your day-to-day operations in ways you never thought possible!
Complete the form for more information on the MedicsAnalytics dashboard to help bring your data to life!