Turning In-Depth Data into In-Depth Data with the MedicsCloud Suite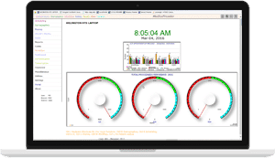 The financial, management and clinical key performance indicators (KPIs) available from the MedicsCloud Suite are extraordinary, with an impressive ability to quickly turn data meaningful analytics into any number of user-defined views such as dashboards, charts, graphs and tables.
users are able to create the reports needed without requiring extensive report writer training and without expensive, add-on utilities
reports are exportable to Excel, and even the most detailed reports are compiled virtually instantaneously without degrading system usage
specific data points can be drilled-into for more detail on that specific piece of data.
users can create, save and name their reports and schedule them to compile automatically on specific days, hours, etc.
The administrator controls which users can see and / or compile data on a role-based approach. And, the MedicsCloud audit trail monitors reports generated.
Reports can be processed enterprise-wide, or by a specific place(s) of service, by provider(s), by tax ID(s), etc.
The MedicsCloud Suite provide a wealth of information turning that information into virtual works of art that will help manage and support your day-to-day operations in ways you never thought possible!
Complete the form for more information on the MedicsCloud Suite and how it will bring your data to life!