Electronic Prescribing Software
The MedicsCloud EHR improves patient care and efficiency for them and you by combining the robust features of comprehensive prescription and medication management.


e-Prescribe Accurately and Securely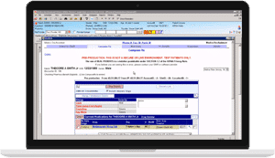 The MedicsCloud EHR's e-Rx is PDMP-enabled via Apriss Health, and NCPDP Certified via Surescripts.
PDMP (Prescription Drug Management Program)
Connectivity provides alerts to prescribers on potential "prescription shopping," helping prevent opioid and other prescription medication abuse.
Healthcare providers can review a patient's record in the MedicsCloud EHR while also seeing real-time PDMP data for controlled substance drugs from across multiple states. In that way, prescribers can identify possible patterns and mitigate potential controlled substance abuse and drug diversion.
NCPDP
(National Council for Prescription Drug Programs)
Certification enables prescribers to fill, change, cancel, and check prescription eligibility. The fully integrated Real-Time Prescription Benefit provides patient-specific advantages and cost information as part of the e-prescribing workflow.
Combined with Electronic Prior Authorizations (EPA), prescribers are empowered to make decisions on medications with greater price transparency while seamlessly completing the prescribing routine.
Rx Changes:

Need to change a patient's prescription? Just select the new Rx and dosage, and the Rx to be replaced.

The next transmission

to the patient's pharmacy will be for

the new Rx

! And, the first transmission on the new e-Rx

contains an alert to the pharmacy about the change

.

Rx Orders:

the prescriber simply selects the "RxFill" option to display the

real-time status

of medications ordered.

Rx Cancelations:

the prescriber selects the medication to be canceled which transmits a

cancelation alert

to the patient's pharmacy.

Rx Eligibility and Real-Time Prescription Benefit (RTPB) features:

the prescriber needs only to highlight the desired medication then

click the "Eligibility" button

to transmit the request; the pharmacy benefit manager (PBM)

displays the eligibility response

for that medication.

When confirmed, the prescriber transmits the Rx

to the pharmacy.
Additional comprehensive features include:
Transmit prescriptions, including for controlled substances
Automatically retain each patient's prescription datafor easy look-up
Quick completion of refill requests made even easier when using the MedicsPortal
Interactions, allergies, and formularies are instantly viewable
Providers creating their "favorites" list of medications
Eliminates lost paper prescriptions, illegible handwriting, out-of-formulary medications
Pharmacy phone time is greatly reduced, if not completely eliminated
For behavioral health/substance use disorders: the system accommodates MARS reporting
Use the Medics Mobile app from your iOS or Android device to review the person's medications and to transmit prescriptions making it a truly mobile feature.
Complete the form for a quick overview video of e-Rx and all of the other mobility and experience-enhancing features available with the MedicsCloud Suite.