Engaging Patient Engagement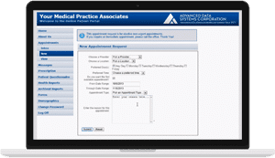 The system's MedicsPortal™ keeps your practice accessible 24 x 7 x 365.
MedicsPortal securely supports:
appointment requests
communicating with the practice
enabling patients to view their results as allowable by the practice
an ability for patients to edit their own demographics and insurance
completing questionnaires and "paperwork" online
...all when it's convenient for, or when needed by the patient. And, the practice controls the extent to which information is made available, or to which features can be used.
Patients create their own usernames and passwords, and can access your practice via MedicsPortal from anywhere with a secure internet connection.
MedicsPortal engages patients with your practice. And overwhelmingly, engaged patients are happy patients!
Complete the form for a quick overview video of MedicsPortal.