Excellence in Billing Services and RCM for your Radiology Practice, Group, or Network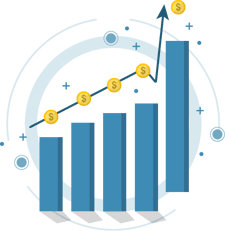 You're fairly certain incoming revenue should be better; that it's an uphill struggle trying to derive the most revenue possible from your insurance payers and patients.
And, that hiring and retaining staff is becoming more difficult, combined with the expense associated with maintaining that staff.
MedicsRCM for Radiology solves our clients' revenue and infrastructure issues, simultaneously with our Rules Engine-based technology and a team of nearly 300 billing and EDI professionals working seamlessly behind the scenes for you.
And, you'll have transparent, on-demand access to all of your data. Clients can compile their own reports at any time and export them to Excel, in addition to those we generate for and review with clients.
Clients' revenue is typically increased by 10% - 20% with MedicsRCM supporting:
eligibility verifications on scheduling and up to four times prior to appointments
prior authorizations option saving hours of staff time
patient responsibility estimator with copayment displays
a nearly 100% success rate on first attempt HCFA, UB, WC, and NF clearinghouse claims
claims audited for maximized reimbursements
alerts when current E/M coding rules are not correctly followed
insurance discovery option uncovers coverage when the same is missing or incomplete
our Denial Preventer® proactively alerts on claims likely to be denied
claim tracking in real-time ensures they're progressing
any denied claims are edited/resubmitted within 72 hours
EOBs reconciled quickly ensuring your A/R is timely and accurate
balance due texts with patients using their iOS/Android devices to pay
appointment reminder texts with interactive replying to confirm or cancel
radiology-specific multi-modality scheduling and workflow
financial and operational reports, KPIs, dashboards, and analytics
single or multiple tax IDs as needed
easily display multiple cases for the same patient
interfaces with virtually any PACS and HIS
data conversions from existing systems
For mobility, engagement, and to help keep referrers referring:
access our clinical decision support option when referrers haven't provided required AUC data
physician and patient portals enabling both groups to self-serve on any number of levels
incoming orders with finalized reports out to any referrer's EHR without expensive HL7 interfaces
links to images can be included on finalized reports as supported by your PACS
case-specific patient attorney management easily connects patients with their attorneys
optional attorney portal enables them to self-serve securely on viewing and retrieving documents without disrupting your staff
track marketing/advertising campaigns with our built-in CRM feature
MedicsRCM for Radiology uses the MedicsRIS which is also available if an in-house system is preferred. MedicsRIS can be deployed on your server or in our cloud.
Contact us for more on MedicsRCM and how we can increase your revenue, productivity, and efficiency all at the same time!
"The MedicsRCM team has consistently achieved for us an unheard of 100% collections on our contracted rates year after year. We couldn't be more pleased for their guidance and quality of service."

Leasiah Griffith, Practice Administrator
Bethpage, NY