Comprehensive, Intelligent RCM Services for any or all Levels of Care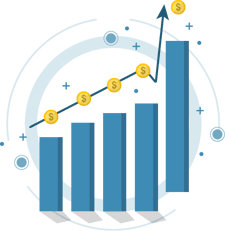 MedicsRCM knows the unique financial and operational nuances in the world of Behavioral Health (BH) and Substance Use Disorders (SUD). Our clients' revenue is typically increased by 10% - 20% and sometimes by up to 30%.
We can assist whether your setting is inpatient, outpatient or a combination of each with:
our nearly 100% success rate on first attempt HCFA or UB clearinghouse claims
continual audits to ensure claims are submitted at their highest possible value without over-coding
system features adapting to level of care changes as needed
pre-appointment or pre-service batch verification of benefits
in- and out-of-network alerts in advance of services performed
patient / client personal responsibility estimator helps capture those amounts due
comprehensive EDI for physicians, clinicians, therapists and other providers
claim tracking to ensure your claims are being processed
rapid denial management with edits and resubmissions quickly turning them into revenue
immediate personal-due statements as insurance(s) reimburses
secure online payments through our portal
accepting credit and debit card payments onsite or by phone
patients / clients contact MedicsRCM with statement questions
On the operations side, MedicsRCM's clients have transparent, on-demand access to all of their data. They can use MedicsRCM's:
built-in CRM to track any marketing campaigns
portal which supports appointment requests or live scheduling (your choice)

patients / clients can complete major portions of intake in advance

through the portal

ability to holds accounts as tentative until patients / clients actually arrive

prevents clogging the system with "false patients

" who never came in for treatment

retains those accounts separately

for follow up by the facility

task manager feature for ensuring assigned follow ups are completed
comprehensive BH and SUD financial and management reports, analytics and KPIs are produced by MedicsRCM

reports are reviewed regularly

with clients

they're displayable in a variety of user-defined dashboards and views
MedicsRCM clients can also produce their own on-demand reports

reports can be rolled up

or

segmented

by any number of filters

multi-modality scheduler for a variety of appointment types and scenarios
MedicsRCM supports single or multiple tax IDs, and an unlimited number of locations.
EHR versatility: Our clients can use their existing EHRs interfaced with MedicsRCM, or the fully integrated MedicsCloud EHR from Advanced Data Systems Corp. with its comprehensive bed manager for IP facilities, or no EHR with our system's electronic superbill.
Let's talk about your needs and expectations, and how MedicsRCM from Advanced Data Systems RCM can help. Simply complete the form, and we'll be happy to provide a no-cost assessment and customized quote for your particular treatment center, inpatient facility, or psychiatry group.
"When we began with MedicsRCM we had revenues delayed for almost 180 days. Now, 90% - 95% of receivables are at less than 45 days, with the vast majority of it being under 30 days."

Gladys Serrano, CEO
Hispanic Counseling Center