Healthcare Marketing SEO Vs. Digital Darwinism
Leverage Your Website and Social Media to Amplify Reach and Leap-Frog the Competition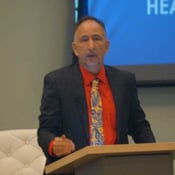 Many medical practices and healthcare organizations have closed their doors nationwide. Almost assuredly, they all suffered from digital Darwinism…staying in the past with outdated marketing, SEO, and business strategies. In such a highly competitive environment, digital Darwinism doesn't work.
In this on-demand webinar, Founder & CEO at Behavioral Health Network Resources Charles Davis, shows you how to rank higher in Google while sharing his proven techniques to leverage your website and social media to amplify reach, increase qualified leads, and leap-frog the competition.
Charles has built an impressive marketing footprint with a direct following of over 150,000 on social media. He is #1 for drug rehab marketing and SEO on LinkedIn, Facebook and Twitter. His marketing vision has built up one of the nation's largest professional audiences on addiction treatment.
You'll learn:
website development
local SEO
social media marketing
ranking in Google maps
mobile optimization
Just fill out the form on this page to view this recorded webinar.