Ensure your practice is properly prepared for MACRA.
Billions of dollars can be saved by focusing on quality of care rather than quantity of care.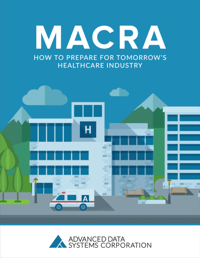 In 2015, the Medicare Access and CHIP Reauthorization Act became law. With its emergence came better care, more efficiently delivered. In other words, Value-Based Medicine instead of fee-for-service.
So how can you prepare for this shift in healthcare?
In our ebook, we've outlined things you need to know about MACRA, the Quality Payment Program, and its two major tracks -- MIPS & APMs -- and we've also included suggestions on how you can begin preparing and adjusting today. Learn more about:
What MACRA is slated to accomplish
MACRA's value-based payment programs
The importance of reporting
The MACRA implementation timeline
What you can to do prepare for MACRA
To gain instant access to this free resource, fill out the form on this page.