It's not enough for the software to be great…the vendor must also understand the highly specialized requirements demanded by Family and General Medicine practices.
EHR Software for Family Medicine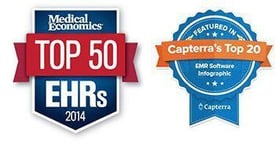 For the Family and General Practice, Medics EHR is the ideal solution. We have successfully delivered superior medical office software and medical practice management software to thousands of medical practices.
Family Medicine EHR Features
Visit Types
The templates for office visits are divided into Family Practice and Pediatrics. The Family Practice uses the General Medicine template, while the Pediatric templates are for Initial, Well Baby, and Sick Baby visits.
My Encounters
The My Encounter section provides encounter information about the patient for each doctor, indicating whether the encounter is signed or unsigned. It contains information such as name, appointment dates, chief complaint, and assessment.
Growth Chart Images
This section contains a collection of various growth chart images that were developed by the National Center for Health Statistics. The provider can mark the relevant chart and attach it to the patient's encounter for future reference.
Denver Chart
The doctor can create a Denver chart for each child, evaluating the Gross Motor, Language, Fine Motor-Adaptive, and Personal-Social parameters of the child from birth to age six. This chart can be associated with the child's encounters, indicating whether or not the findings were normal.
Lab Reports
A variety of reports showing lab and test results help the care provider decide the best course of treatment.
Messages
Using the Messages section, the specialist can send messages to office administrators, as well as e-mails to other care providers. The window displays a list of all of the sent and received messages and contains a comprehensive address book.
Encounter Form
The Encounter forms contain comprehensive information about the patient. They also provide information required by specialists or other providers that may be needed for advanced treatments.
Referrals
The Referral Letter feature enables the specialist to send referral letters to other care providers via e-mail, fax, or e-fax. One or more sections of an encounter can be attached to the letter; the recipient can then be selected by using a convenient drag-and-drop mechanism.
Medics FlowText™ for Revolutionizing Family Medicine Transcription!
A function that has been a persistent nuisance with EHRs - getting text for reports and letters smartly into the appropriate fields within the EHR - is solved by Medics FlowText as a built-in capability within the Medics EHR.
Practice Management Software for Family Medicine
Ensuring Every Dollar for Every Patient!
Comprehensive EDI with a 99% success rate on 1st attempt clearinghouse claims
Easy-to-use, built in Medics ICD-10 Family Medicine code converter
Medics Claim Denial Manager built-in
Real-time claim tracking for actual views on expected reimbursements
Know what they Owe™ Patient Responsibility Estimator built-in
Workers Compensation / No-Fault claims and billing
Family Medicine scheduler is a powerful management / financial tool protecting revenue in advance
Solid management and financial Family Medicine practice analytics / reports / dashboards
WindowOne™ architecture for reduced keystrokes and quick data visuals
RCM Services for Family Medicine
Comprehensive, Outsourced Medical Billing and Revenue Cycle Management
Ideal for Family Medicine practices that prefer to outsource their RCM needs
MedicsRCM uses Medics Practice Managment and Medics EHR for Family Medicine
Clients have transparent, unfettered access to the systems, to the extent they want!
"When a patient's record is opened, virtually any and every piece of information needed on the patient becomes immediately available. Medications prescribed, test results, images, allergies, previous visit details…all of this is easily viewed directly from the patient's record. The system is a pleasure to use, and the ROI it produces in terms of eliminated redundancy and manual drudgery is extraordinary."

Steven Gronowitz, MD
Clifton, NJ