Get the most out of your RIS Software investment.
Learn the ultimate benefits of RIS Software with this free ebook, "5 Vital Things You Need to Know About RIS Software."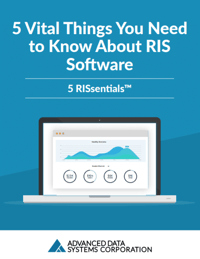 Radiology practices can benefit from a Radiology Information System in a number of ways. However, many key benefits of RIS software are often overlooked.
This informative ebook highlights five vital things that all radiology practices should know about their RIS software...what we call "RISsentials™."
With this ebook, you will learn:
Key benefits of RIS connectivity to any referring physician's stage 2 certified EMR
Ways you should be using your RIS to better manage revenue
How to use your RIS scheduler to maximize overall efficiency
Using your RIS to meet MACRA reporting requirements and avoid penalties
Fill out the form on this page to receive instant access to the ebook, and see how you can use your RIS software to its fullest potential.