Brilliance in Financial, Operational, and Clinical ASC Automation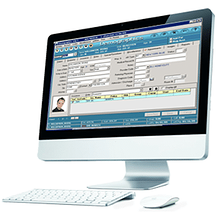 ASCQR reporting. HCFA, UB, workers comp and no-fault claims. Multiple tax IDs. Comprehensive EDI. Anesthesiology billing if needed. ASC-specific scheduling. Analytics, KPIs and reports. Patient due statements. Click-free, voice navigated EHR and clinical charting. Mobility and engagement features and options including portal, texting, and kiosk.
The MedicsCloud Suite for ASCs can do it all or whatever is needed:
implement the suite's full financial, operational, and certified MedicsCloud EHR or
the MedicsPremier financial/operations segment (which can be locally on your server) integrated with your EHR or
use our electronic superbill with no EHR
On the financial side for ASCs, MedicsPremier supports:
access to a patient responsibility estimator on scheduling appointments

ideal for obtaining patient due amounts
also displays copayments

pre-surgery eligibility verifications to ensure patients' insurance is in effect

in batch mode through the MedicsPremier scheduler or individually
on scheduling to immediately verify coverage

a nearly 100% success rate on first attempt clearinghouse claims (HFCA/UB/WC/NF)
comprehensive anesthesia billing if needed
CCI editing is accommodated to ensure secondary claims are bundled correctly
a rules engine for maximizing codes for better reimbursements
automated EOBs ensure reconciliations are quickly and accurately applied to patients' accounts
claim tracking for real-time status views of submitted claims
denial manager for "on the fly" editing and resubmitting of denied claims
proactive denial alerts help prevent denials in the first place
patient statements as balances become their responsibility
iOS/Android MedicsPortal with secure online patient payments

patients complete questionnaires in advance making intake quicker and safer

intelligent A/R and collections with capabilities such as reports on payers who should've paid by now, but haven't
ASC Scheduling, Workflow
The MedicsPremier scheduler itself is a powerful financial and management system with capabilities that include:
batch verifying patient eligibility in advance
displaying copayments as appointments are scheduled
multi-dimensional / multi-modality scheduling based on surgery type
specifying a particular surgery suite based on surgery type

built-in dynamic appointment reminder texts
workflow visuals to keep things moving efficiently throughout the center
Medics Portal and Kiosk Options
MedicsPremier Portal with secure 24 x 7 x 365 iOS/Android access empowers patients to:

pay securely online

enter / edit their own demographics

request appointments which are then confirmed by the ASC

complete online questionnaires and "paperwork" in advance

MedicsKiosk further streamlines intake:

iOS/Android device compatibility

ideal if the portal wasn't used in advance, or if additional information is needed

perfect for patients who arrive with a caregiver

eliminates clipboards and handwritten forms that need to be deciphered after which information has to be deciphered then manually entered
KPIs, Analytics and Reports for ASCs
MedicsPremier provides for an extensive library of user-defined management and financial reports specifically for ASCs.
Of particular interest to ASCs are reports and KPIs on:
ASCQR reporting
comprehensive anesthesia documentation
referring surgeons / practices and associated revenue derived
insurance reimbursements by payer
resource utilization with income-related statistics
denied claims with resubmissions displayed
Reports and KPIs are displayable in a number of formats. Virtually all can be exported to Excel™. Data elements can be drilled into for more detail. And, expensive, add on report writing utilities aren't needed.
Reports can be created, saved, and scheduled to compile automatically at specific times, on certain days, or monthly, quarterly, etc.
MedicsCloud EHR for ASCs
Ideal for a number of specialties, the MedicsCloud EHR supports:
optimal E/M coding suggestions as may be needed by the ASC
pre-op, intra-op and post-op documentation templates
letter templates, consents, discharge summaries
procedures and surgeries including but not limited to:
epidural steroid injections
nerve blocks
facet joint injections
redio frequency ablations
knee arthroscopy, meniscectomy
shoulder arthroscopy, rotator cuff repair
anterior cruciate ligament (ACL) repair
hip arthroscopy, labral repair
achilles tendon repair
bunionectomy

carpal tunnel release
trigger finger release
joint replacement
fractures
ankle sprain
AC separation
colonoscopy
flexible sigmoidoscopy
hemorrhoid banding
upper endoscopy (EGD)
The MedicsCloud EHR produces an array of clinical reports including for surgeries, surgeons, vital graphs, active medications and allergies, medications administered, anesthesiologists, nurses, patient discharge, and more.
<<< >>>
Your ASC is there to help patients. It's also a business, and businesses like your ASC need the most revenue possible and to operate (no pun intended) as efficiently as they can. The MedicsCloud Suite will help your ASC do exactly that!