Brilliance in Financial and Operational ASC Automation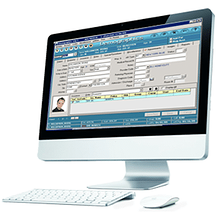 ASCQR reporting. HCFA, UB, workers comp and no-fault claims. Multiple tax IDs. Comprehensive EDI. Anesthesiology billing if needed. ASC-specific scheduling. Analytics, KPIs and reports. Patient due statements. Multiple tax IDs.
MedicsPremier for ASCs does it all. It's deployable securely in the cloud, or as a customer hosted system on your server(s). It can be integrated with any number of other system types including EHRs. And, MedicsRCM™ is available for ASCs that prefer comprehensive, outsourced revenue cycle management services. MedicsRCM also uses MedicsPremier.
On the cash flow, billing, and EDI side for ASCs, MedicsPremier supports:
pre-surgery eligibility verifications to ensure patients' insurance is in effect

can be done in batch mode through the MedicsPremier scheduler

a nearly 99% success rate on first attempt clearinghouse claims
a rules engine for helping to maximize coding resulting in more profitable reimbursements
intuitive submitting of secondary and tertiary payers as previous payers' reimbursements are received
automated EOBs / ERAs to ensure reimbursements are quickly and accurately applied to patients' accounts
Vision™ claim tracking for "right now," real-time status checks on claims to verify they're being worked by payers
the Medics Claim Denial Manager™ with "on the fly" editing and resubmitting of denied claims
preventing repetitive denials with alerts as established in the rules engine based on previous denials by that payer
patient statements as balances become the patient's responsibility

economical offsite statements and fulfillment is available

intelligent A/R and collections with capabilities such as reports on payers who should've paid by now, but haven't
ASC Scheduling, Workflow
The MedicsPremier scheduler itself is a powerful financial and management system with capabilities that include:
batch verifying patient eligibility in advance
displaying copayments as appointments are scheduled
multi-dimensional / multi-modality scheduling based on surgery type
specifying a particular surgery suite based on surgery type

built-in dynamic appointment reminder texts
workflow visuals to keep things moving efficiently throughout the center
Portal and Kiosk are supported through MedicsPremier:
MedicsPremier Portal™ with secure 24 x 7 x 365 access for:

secure patient pay online feature

enter / edit patient demographics

request appointments which are then confirmed by the ASC

complete online questionnaires and "paperwork" in advance

MedicsKiosk™ is similar to the portal but is used from the ASC's reception area

can be accessed via tablet, laptop or stationary desktop PC

ideal for patients who didn't use the portal in advance, or if additional information is needed

perfect for patients who arrive with a caregiver

data is confirmed by ASC staff and then saved in MedicsPremier

eliminates clipboards and handwritten forms that need to be deciphered after which information has to be entered manually by staff
KPIs, Analytics and Reports for ASCs
MedicsPremier provides for an extensive library of user-defined management and financial reports specifically for ASCs.
Of particular interest to ASCs are reports and KPIs on:
ASCQR reporting
referring surgeons / practices and associated revenue derived
insurance reimbursements by payer
resource utilization with income-related statistics
denied claims with resubmissions displayed
Reports and KPIs are displayable in a number of formats. Virtually all can be exported to Excel™. Data elements can be drilled into for more detail. And, expensive, add on report writing utilities aren't needed.
Reports can be created, saved, and scheduled to compile automatically at specific times, on certain days, or monthly, quarterly, etc.
<<< >>>
Your ASC is there to help patients. It's also a business, and businesses like your ASC need great automation in order to operate (no pun intended). MedicsPremier will help your ASC do exactly that!