A "What's Happening?" on your Claims!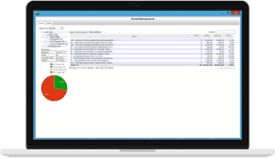 You're doing yourself a disservice if you submit your claims then sit back and wait.
With the MedicsCloud Suite, you're able to keep tabs on your claims in real time with Vision® claim tracking as part of our recommended overall EDI capabilities.
And it's so easy to use. Simply connect to your submitted claims and see their status.
Tracking claims gives you a definite advantage in terms of projecting or anticipating revenue vs. guessing as to what will be paid.
You're able to contact the payer if you see claims idling and question the payer as to their status.
When you send a package via UPS or FedEx, for example, you might very well want to track it's progress.
You can do the same with your claims using the MedicsCloud Suite and Vision claim tracking!
Complete the form for more information on Claim Tracking and our full array of features designed to get every dollar for every visit!