Get Answers to Your Toughest EHR Software Questions
...with our free ebook, "Electronic Health Records Software: A Vital Component to Any Modern Medical Practice."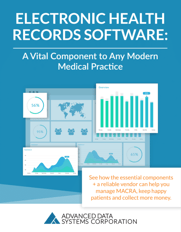 EHR software is vital to the success of any medical network, group, or practice.
Our guide highlights essential things you need to know about EHR software.
This comprehensive guide covers:
Why EHR helps improve patient engagement and keep patients happy
How to use EHR to meet MACRA's reporting requirements
How to choose the right EHR vendor for your practice
How EHR software helps keep your patients' private information secure
Fill out the form on this page to download your free copy instantly, and discover how the essential components and a reliable EHR system can help you manage MACRA, keep patients happy, and collect more money for your medical practice.