Increase collections by verifying your patient's insurance benefits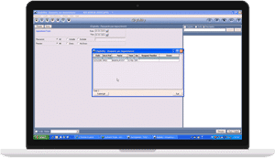 The Medics Scheduler includes batch insurance eligibility verification for all patients scheduled in any given period. For example, the eligibility of all patients with appointments in the next two days can be checked in one single eligibility query.
Further, the Medics Scheduler can capture and display detailed information on insurance coverage for each patient and attach same to each individual patient's account.
Eligibility can also be verified at "point of sale" or "point of encounter" by any operator with internet capability. Results are generally displayed within ten seconds of input, returning the same information as batch eligibility verification.
In addition to insurance verification, the Medics Scheduler can generate a listing of "pre-certs" showing all patients scheduled for procedures calling for prior authorizations from the patients' insurance carriers.
Pre-authorization work lists show all patients requiring an authorization and if so, whether or not the authorization has been received by the practice.
Complete the form for a quick overview video of the insurance eligibility verification feature.