Multiple Tax IDs Shouldn't Cause Multiple Headaches or ANY Headaches
What functionality would you like to see in your ideal multiple tax ID world?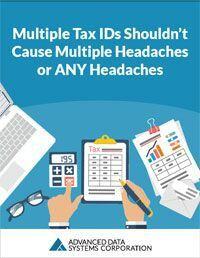 Practices, groups, and enterprises shouldn't have to stress over a simple thing like multiple tax IDs, but unfortunately, many do.
Our ebook contains a list of what we think should be included in healthcare software to allow for optimal functionality in dealing with multiple tax IDs.
Read about how to:
Make sure only authorized users can access the data
Ensure proper security based on users and roles
Populate a patient's data from one tax ID entity to another
Easily flip between multiple tax IDs without having to log in, log out, and log back in
Compile individual and roll-up reports
Fill out the form on this page to gain access to your free ebook!