It's not enough for the software to be great…the vendor must also understand the highly specialized requirements needed by Oncology practices.
Oncology EHR Software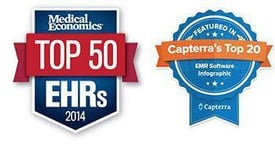 ADS understands the uniqueness, complexities, and data-intensive nature of oncology, and the need to access and present information within ambulatory and acute care settings.
Our MedicsDocAssistant™ EHR for Oncology has built-in tools for managing the intricate protocols and medication management needs, and for enhancing workflow between the entire oncology care team.
The point of care Medics Dashboard allows for access to oncology-specific personalized care pathways for each patient, from initial diagnosis through follow-up. Critical access to the patient's longitudinal chart is provided through our care pathway to physicians, nurses, and pharmacists.
The Decision Support engine provides an additional measure of safety for patients at the point of care. Among other capabilities, our feature-rich, oncology-specific EHR comes with:
tumor staging
data-intensive workflows
chemotherapy dosing and administration
toxicity assessment
survivorship care
clinical trial protocol management
drug inventory management
ADS is a leader in the ability to manage secure Information Exchange for improving patient care and accelerating department workflow by electronically exchanging and sharing patient data and images with other healthcare departments including pathology, radiology, pharmacy, laboratory and billing.
Medics Dashboard for Patient's Longitudinal Chart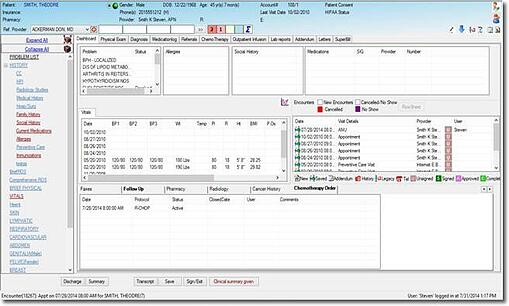 Capture review of systems (ROS) and physical exam using templates, free text, or voice-capture dictation.
Enter vital signs with graphing to identify trends.
Document adverse events (type, onset date, response and severity).
Maintain a complete problem list including primary diagnosis and other problems (ICD-9 & -10).
The single window dashboard displays the patient record, visit history, problem list, assessment and plan by previous encounters, cancer staging, chemotherapy and other pertinent factors that gives the provider a quick view of the patient's longitudinal chart.
Cancer Staging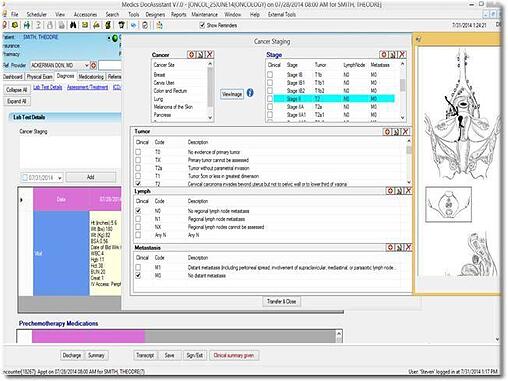 A very easy-to-use, intuitive automated cancer staging capability is built into the system.
Create custom stage groupings. The TNM staging system is based on the size and / or extent (reach) of the primary tumor (T), based on the selection criteria. Staging is automatically generated which is then transferred to the assessment sections of the patient's chart.
A very intuitive graphical interface is available for annotation, provider comments, and pictorial representations.
View labs, drug doses, toxicities, review of systems, physical examination, assessments, and notes with the system's patient flow sheets.
Document disease response and tracks adverse events.
Chemotherapy and Other Orders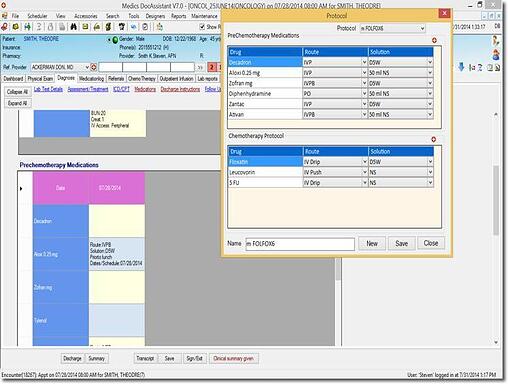 Select from a library of disease-specific regimens.
Ability to adjust dosage by percentage, mg/m2 or calculated dose. Automated dose calculation amounts can be defined as calculated vs. fixed amounts.
Dose calculation mechanism to account for changes in patient's condition such as weight, BSA, and Serum Creatinine.
Drug Ordering / Drug Interaction checking (drug / drug, drug / allergy, drug / diagnosis), and inventory management.
Structured point-and-click selection of: labs, diagnostics, return visits, procedures, and referrals.
Outpatient Chemo Dispensing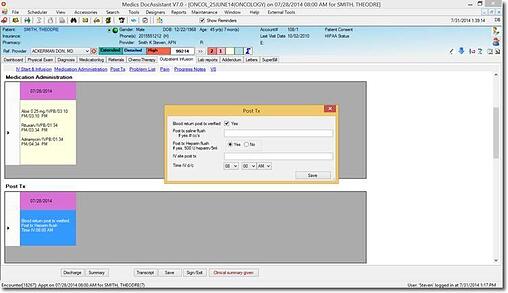 Dose calculation mechanism to account for changes in patient's conditions such as weight, BSA, serum creatinine.
Dose limit checking including maximum daily / lifetime cumulative dose.
Ability to adjust dose by percentage, mg/m2 dose, or calculated dose.
MedicsDocAssistant's unique care pathways enhance the collection of data at the point of care.
Outcomes Analysis and Reporting are based on the patient's longitudinal chart, and are tracked from initial diagnosis throughout treatment and follow-up.
Diagnosis-specific data can be examined in order to segment patients and evaluate long term outcomes including:
Clinical: treatment patterns and responses, toxicity, and survival
Financial: insurance listing, revenue and costing, superbill, Case Report Forms (CRFs), adverse event listings, and variance reporting.
The system has been designed and built exclusively for oncology with teams who understand the core workflows of the specialty.
A notable ADS strength is our ability to work with the practice during various stages of Implementation, Training, and structured Support, all helping to ensure that "going live" is seamless and smooth.
MedicsDocAssistant™ V.7.0is certified by ICSA Labs© as a complete EHR for Stage 2 MU and the Medics ICD-10 Code Converter is built into the system. We look forward to presenting your practice with an overview of MedicsDocAssistant EHR for Oncology.
See how it can ease the complexities normally associated with oncology clinical workflow, and why thousands of providers rely on systems from ADS.
Oncology Practice Management Software
Ensuring Every Dollar for Every Patient!
Comprehensive EDI with a 99% success rate on 1st attempt Oncology clearinghouse claims
Easy-to-use, built in Medics ICD-10 Oncology code converter
Medics Claim Denial Manager built-in
Real-time claim tracking for actual views on expected reimbursements
Oncology billing requirements as called for by payers
Know what they Owe™ Patient Responsibility Estimator built-in
Oncology scheduler is a powerful management / financial tool protecting revenue in advance and for intricate Oncology scheduling
Infusion Chair scheduling and management for optimized utilization
Solid management and financial Oncology practice analytics / reports / dashboards
WindowOne™ architecture for reduced keystrokes and quick data visuals
Medical Billing Services for Oncology
Comprehensive, Outsourced Medical Billing and Revenue Cycle Management
Ideal for Oncology practices that prefer to outsource their RCM needs
MedicsRCM uses Medics Practice Managment and Medics EHR for Oncology
Clients have transparent, unfettered access to the systems, to the extent they want!
"When a patient's record is opened, virtually any and every piece of information needed on the patient becomes immediately available. Medications prescribed, test results, images, allergies, previous visit details…all of this is easily viewed directly from the patient's record. The system is a pleasure to use, and the ROI it produces in terms of eliminated redundancy and manual drudgery is extraordinary."

Steven Gronowitz, MD
Clifton, NJ