One Medical Software Suite, Two Ways to use it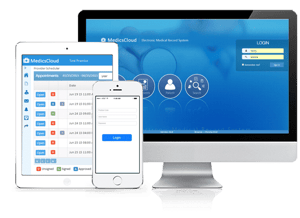 Way #1: Schools and Universities
Schools (K-12) generally have a nurse(s) for student health visits and for administering medications to students who need them on a daily basis.
Universities and colleges may have a fully staffed medical facility or urgent care clinic perhaps with multiple locationsfor treating students, and possibly staff and visitors as well.If there are dormitories, the clinic may operate up to 24 x 7 x 365.
Our MedicsCloud electronic medical records (EHR) and financial / operational automation (practice management) suite is designed to accommodate any school or university medical setting from as simple to as comprehensive as needed!
For K-12:
a scheduler for reminders to the nurse about students who require assistance on specific days / times
charting documentation for retaining and tracking diagnoses /procedures
if needed, transcribe reports* with easy transmission to the student's physician
reports on visits / procedures for all students, or by user-defined parameters
electronic forms and authorizations can be attached to each student's record
For University Clinics:
comprehensive voice-driven / click-free MedicsCloud EHR for documenting encounters, diagnoses, procedures, and follow up outcomes
transcribe reports* with simultaneous, intelligent data entry
e-prescribe to pharmacies for controlled / non-controlled substances
have bi-directional connectivity with labs for orders-out / results-in
attach radiology images to records for easy viewing and comparisons
a nearly 100% success rate on first attempt clearinghouse claims, including for student health plans, Medicaid, and Medicare (if needed)
balance due statements to patients or guarantors
financial / operational reports and analytics, rolled-up or by place of service if multiple locations
single or multiple provider tax IDs
For connectivity and engagement:
The iPad / iPhone / Android-friendly MedicsPortal provides around-the-clock connectivity for scheduling appointments and for completing questionnaires in advance making for a more hassle-free intake.
For those who schedule appointments, interactive texts keep patients reminded about them.
Our MedicsKiosk supports self-registrations and electronic signatures further enhancing workflow on arrival. It's especially helpful for walk-ins where the portal may not have been used in advance. Patients can use their devices as well for kiosk.
Where appropriate, patients can use their devices for telemedicine encounters; features include picture-in-picture technology and automatic time-stamping of each session.
For patients with appointments, use the scheduler in advance to batch verify eligibility, obtain out-of-network alerts, see about co-payments, and to access the after-insurance patient responsibility estimator. These EDI features can all be performed as well for walk-ins.
Track submitted claims in real time, edit / resubmit denials on-the-fly, and reconcile EOBs instantaneously via ERAs.
Family and guarantor scenariosare supported with options for setting up "family network" records for siblings with single or multiple guarantors. Students may have individual records as well also with single or multiple guarantors, or students can be their own guarantors.
As insurance reimbursements are posted, balance-due statements are automatically generated to the student or to the student's guarantor(s). Online payments can be made through our portal, or by phone using a credit card, or directly at the center.
MedicsRCM is available if comprehensive revenue cycle management services is preferred. MedicsRCM clients can use the MedicsCloud EHR, or their existing EHRs interfaced to MedicsRCM, or no EHR with our e-superbill.
Our versatile and easy-to-use automation solutions, all based on your specific needs, are ideal for any school or university healthcare resource!
Way #2: Training
The MedicsCloud Suite is perfect as a hands-on training system for universities, schools, and vocational academies that have courses for providers, administrators, or office staff.
Students get a real-world feel for using healthcare automation on the clinical / EHR side, or on the financial / management side, or for both.
Use the scheduler, process intake, chart encounters, transcribe reports*, track outcomes, issue "prescriptions" and view medication management, submit "claims," compile reports…learn it all using the MedicsCloud Suite in a training setting.
Contact ADS for more information on the MedicsCloud Suite for your school / healthcare clinic, or for training, or for both!
*requires a voice recognition system such as Dragon Medical One
"When a patient's record is opened, virtually any and every piece of information needed on the patient becomes immediately available. Medications prescribed, test results, images, allergies, previous visit details…all of this is easily viewed directly from the patient's record. The system is a pleasure to use, and the ROI it produces in terms of eliminated redundancy and manual drudgery is extraordinary."

Steven Gronowitz, MD
Clifton, NJ