The "Ins" and "Outs" of Revenue Cycle Management: INcome by OUTsourcing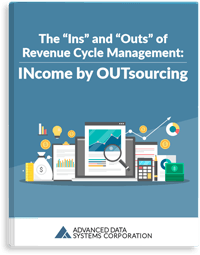 Have you recently been considering Revenue Cycle Management services?
If so, be sure to get an overview on exactly what the RCM company should do to help improve revenue and productivity for your organization. If they actually know how to manage their clients' revenue cycles, then without a doubt, outsourced RCM is an embraceable, valuable commodity.
In our ebook, we talk about what a true revenue cycle management company should do, as well as the following:
What a managing RCM company can do to maximize its clients' revenue and cash flow
The scheduler, workflow, and keeping the reception area filled
What a proven RCM company should provide
Transparency to all of your data, and training on making the most of that transparency
Other RCM benefits its clients should derive using the RCM company's system
Security and tax IDs
To gain instant access to this free resource, fill out the form on this page.