Enhancing the Patient, Provider, and Practice Experience with EHR, Management, and Financial Automation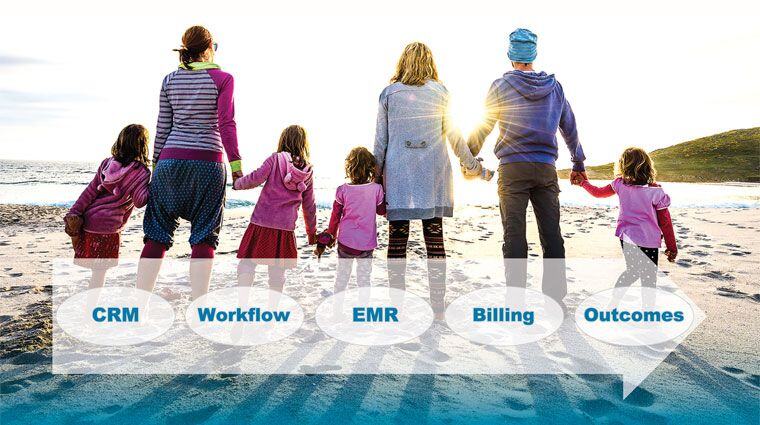 In your "space" you need to generate the most insurance and patient revenue possible, especially with personal responsibility balances growing by the minute because insurance reimbursements are diminishing equally as fast.
At the same time, operating at maximum efficiency, both clinically and administratively is a must.
And, it all needs to be done with patient engagement, an enhanced experience, and mobility solidly in the mix. Keep in mind that engagement, experience, and mobility are needed by your staff and providers as well!
The MedicsCloud Suite supports all of it and more with:
The MedicsPortal which is iOS and Android-friendly keeps patients connected 24 x 7 x 365. Complete up to 70% of intake in advance by empowering patients to self-serve with:

scheduling or requesting (your choice) in-office or telemedicine visits (more on telemedicine below)
completing questionnaires and forms in advance of their arrival
patients editing demographics and insurance information
patients viewing their medical information to the extent you allow
refill requests without disrupting staff
enabling secure online payments directly to you
bi-directional messaging for eliminating frustrating phone time
MedicsNotifyer for alerting patients about new messages or items to be completed

Medics Interactive Reminder Texting is a powerful connectivity feature:

no-shows are dramatically reduced if not completely eliminated
keeps productivity humming and revenue maximized

MedicsKiosk as patients arrive

further enhances intake by eliminating clipboards and handwritten forms
supports electronic signatures and scanning of driver's licenses, insurance ID cards, etc.
simultaneously affixes those images to the person's record

The MedicsCloud EHR is voice-driven and click-free through its built-in Medics FlowText and supports:

pre-customized intake
easy-to-input treatment plans, progress notes and psychiatric evaluation notes
mental status exams that comply with the outpatient practice's documentation requirements
outcomes measures which are also tracked and can be reported on
patient self-reporting
e-Rx for controlled and non-controlled substances as well as comprehensive medication management
interfacing with virtually any laboratory's LIS for submitting orders and receiving results back into the person's record
instantaneous claim submission from the system's billing segment as encounters are completed

Transcribe with Medics FlowText and almost any system such as Dragon Medical One to:

intelligently insert data into the patient's record while transcribing
complete the record as part of transcribing
use your iOS or Android device to transcribe untethered from almost anywhere globally
transmit finalized reports to referring physicians from the device

Telemedicine is perhaps the ultimate engagement feature with patients using their iOS or Android devices from almost anywhere to:

connect with you at the scheduled time for online encounters
enable providers to see more patients while expending virtually no physical resources
use picture-in-picture technology with an ability to move the patient's image within the view
capture the encounter data, enter notes, order labs or Rx, have the session automatically time stamped

The system's scheduler doubles as a powerful tool that protects revenue in advance with:

out-of-network alerts on scheduling
access to the patient responsibility estimator for advising as to approximately what'll be owed after insurance reimburses
displaying co-payments as a reminder during scheduling
batch verifying eligibility and "red flagging" any issues in advance

The Suite's financial component supports:

end of month closings
flowsheets and worklists for eliminating bottlenecks and mastering task management
providing patients with an accurate view of what they'll owe as visits are completed; ideal for capturing payments now
a nearly 100% success rate on first attempt clearinghouse claims
automated, hands-off cascade billing for patients with more than one insurance
real-time claim tracking to ensure your claims are being processed
a denial manager for quickly editing and resubmitting claims turning them into revenue
predictive denial management with alerts based on the payer's denial history; re-code proactively and then submit
EOB reconciliations via ERAs are immediate and accurate
patient statements immediately as balances become their responsibility; can be generated economically offsite
collections and A/R features for keeping receivables as tight as possible

Comprehensive array of financial and operational reports, analytics and key performance indicators (KPIs)

supports any number of tax IDs; ideal for enterprise reporting
highly user defined, displayable in dashboards or a variety of formats
users can create, name and save their reports for automatic compiling at specified times
virtually all data is exportable to Excel

Marketing: The Suite even contains its own built-in CRM for tracking any marketing or advertising campaigns! Or, it can be interfaced with CRMs such as Salesforce®, Sugar®, Zoho®, and more.
All in One, or Not!
The entire MedicsCloud Suite of engagement, mobility, EHR, financial, and management capabilities are all as a single solution from a single vendor: ADS. Yet, the EHR and financial/management segments are available separately as needed. You're never forced to drop a system you like in order to get the one you need!
ADS provides implementation, training, ongoing support, and updates as well as data conversions from existing systems and interfaces to other systems.