Enhancing the Patient, Provider, and Practice Experience with EHR, Management, and Financial Automation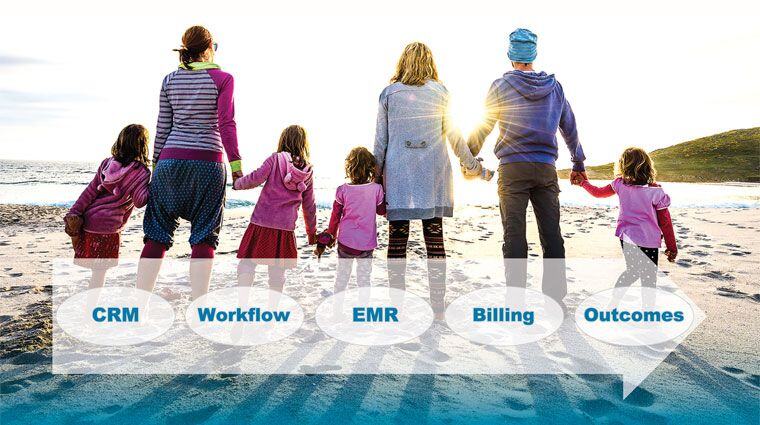 If yours is an outpatient psychiatry practice, group, or network, or is one that provides counseling / therapy, or is perhaps a combination of medical and non-medical, you'll need automation that supports quick but comprehensive encounters providing exactly what you need, not one that's weighed down with tons of unneeded inpatient content and UB codes.
Besides that, you need wide ranging features helping to enhance the experience and satisfaction levels of your three major domain groups: your patients / clients, your providers, and the practice or group itself.
At the same time, you have to capture your ever-growing patient responsibility amounts which seem to be increasing daily, especially in your specialty's sector.
The MedicsCloud Suite supports all of this and more including high levels of mobility working to keep patients, providers and the practice involved, connected, and engaged through portals, kiosks, and telemedicine / teleconferencing all of which are accessible via iPad, iPhone, and Android devices. Camera-enabled tablets, laptop and desktop PCs can be used as well. The system supports Wiley PracticePlanners.
MedicsPortal empowers your patients / clients to self-serve and stay connected with:
scheduling appointments for in-office or telemedicine visits
completing questionnaires in advance of their arrival
editing demographics and insurance information
viewing their medical information to the extent allowable by the practice
requesting refills
making secure online payments directly to you
Bi-directional portal messaging helps eliminate phone calls, waiting on hold, and leaving voicemails. The MedicsNotifyer feature informs patients / clients to log into the portal to view any new messages or alerts.
MedicsPortal is a 24 x 7 x 365 window to your practice. It's a powerful engagement tool for your patients / clients which they can access using any of the devices mentioned. And, it's an incredible timesaver for your staff.
MedicsKiosk takes over once patients / clients arrive. It can also be accessed via their own iPads, iPhones or Androids, or the practice can provide an iPad, tablet, laptop, or a fixed workstation with a desktop PC.
The kiosk walks the user through self-registering, eliminating handwritten sign-in sheets that are often inadvertently viewable at the front desk.
It'll display any questionnaires that might still be needed for today's visit doing away with clipboards and the need for staff to manually enter information into the system.
For security, MedicsKiosk can be set to "sleep" after 30 or 60 seconds of non-use based on your preference.
It supports electronic signatures and scanning of driver's licenses, insurance ID cards, etc. These documents' images are captured simultaneously and become affixed to the person's record.
People are accustomed to using kiosks at airline and transportation terminals, theaters and arenas, museums, and food outlets. MedicsKiosk will speed up and streamline intake experience which is something your patients / clients will appreciate!
Now that the person is being seen by the provider, the MedicsCloud EHR automates the encounter with the provider using an iPad, tablet, laptop or desktop PC. The system supports:
easy-to-input treatment plans, progress notes and psychiatric evaluation notes
mental status exams that comply with the outpatient practice's documentation requirements
outcomes measures which are also tracked and can be reported on
For transcribing, reports or letters can be transcribed on an iPad, iPhone, or Android from almost anywhere in the world (limited only by any security-sensitive geographic locations) using the system's built-in Medics FlowText along with Dragon Medical One, Google Transcribe, or any other number of voice recognition systems.
Medics FlowText supports intelligent voice-to-text-to-intelligent data entry in one pass

, essentially

completing the record when the report is finalized.
It also makes the MedicsCloud EHR responsive to voice commands and virtually click-free.
Medics FlowText with almost any voice recognition system will revolutionize your entire transcription effort.
The MedicsCloud EHR is 2015 certified and contains a built-in MACRA dashboard for MIPS reporting. ADS also has a MACRA team and collaborations with registries to assist clients in their reporting.
Telemedicine and Teleconferencing:
The Medics telemedicine feature is an inherent product developed by ADS. It's not "powered by" a second or third party vendor.
Providers and patients / clients can utilize telemedicine encounters through their iPads, iPhones, and Androids, or by using camera-enabled tablet, laptop or desktop PCs.
Telemedicine and teleconferencing enable providers to see more patients while expending virtually no physical resources.
As of this writing almost every state including DC has some form of protocol for telemedicine and reimbursement. You should become familiar with your own state's requirements. If telemedicine is right for your practice, ADS and MedicsCloud can provide it!
On the management / financial side, the system's scheduler doubles as a powerful tool that protects revenue in advance, including an ability to help capture those ever-increasing patient balances by:
partial

or

full payment

can be discussed as can a

payment plan

right at the point of scheduling the appointment
issuing alerts on scheduling if the selected provider is not in network for that patient
displaying co-payments as a pre-arrival reminder
batch-verifying eligibility through the scheduler and "red flagging" any problems in advance directly

on the appointment
The scheduler has interactive reminder texting built-in helping to keep reception areas - and revenue - at capacity with minimal, if any, gaps.
Patients confirm or cancel simply by replying to their texts. Those who cancel can be called to reschedule while others with future appointments can be contacted to come in sooner (wait-listing). Those who don't confirm or cancel can be called to see about their status.
Texts can contain directions to the appointment location and be in multiple languages. Any special instructions for the appointment can be included.
The Suite also supports:
a nearly 99% success rate on first attempt clearinghouse claims
automated, hands-off cascade billing for patients with more than one insurance
real-time claim tracking to ensure your claims aren't being ignored by payers
a denial manager for quickly editing and resubmitting claims turning them into revenue
a rules engine that can be used for predictive denial management by issuing alerts based on the particular payer's denial history; re-code proactively and then submit
EOB reconciliations via ERAs are both immediate and accurate
system-produced or off-sited patient statements as soon as balances become their responsibility
Comprehensive financial and operational reports, analytics and key performance indicators (KPIs) are customizable and are very easy to compile without requiring advanced skills or expensive add-on report writing utilities.
They can be displayed in any number of formats, and all financial reports are exportable to Excel®.
Users are able to create, name, and save their reports eliminating the need to continually create them, and they can be scheduled to compile automatically at specific times (hours, days, weeks, etc.).
Marketing: The Suite contains its own built-in CRM for tracking any marketing or advertising campaigns. Or, it can be interfaced with CRMs such as Salesforce®, Sugar®, Zoho®, etc.
All in One:
The entire mobility, EHR, financial, and management capabilities in the MedicsCloud Suite are all as a single ADS solution without second or third party software and vendors.
Yet, the EHR and financial / management segments are available separately as needed with an HL7 interface to the system you'd like to retain. You're never forced to drop a system you like in order to get the one you need!
Other items of interest:
The MedicsCloud Suite for outpatient settings encompasses an impressive array of features designed to keep everyone mobile while automating encounters, and for capturing every dollar for every visit.
Contact ADS at 800-899-4237, Ext. 2264 or by emailing info@adsc.com to schedule a personalized overview of the Suite.
See why tens of thousands of providers and system operators rely on automation from ADS!