Say Hello to MedicsRIS™ - The Affordable Radiology Solution
Advanced Data Systems Corporation is a pioneer and leader in providing innovative software solutions for imaging centers. That's why over the years, so many of radiologists and imaging centers have come to rely on and trust ADS to provide the finest in cutting-edge Radiology Information Systems.
While RIS software in general can be both very expensive and difficult to learn and use, MedicsRIS provides an incredibly economical RIS solution that is both easy to learn and enjoyable to use.

Together with our MedicsDocAssistant EHR for Radiology, which is 2011/2012 ONC-ATCB Certified as a Complete EHR for Stage 1 Meaningful Use, the systems will qualify non-hospital-based radiologists for the maximum Stimulus Act financial incentives to which they are entitled. In fact, MedicsDocAssistant was named by HealthMU as a Top 5 EHR for radiologists obtaining MU incentives in 2013!
MedicsRIS & MedicsConnect
The Perfect Partnership for Increased Efficiency
MedicsConnect is a dynamic document delivery system that seamlessly connects to your referring physician community by overcoming the age-old problem of getting your transcribed reports to them cleanly and effortlessly.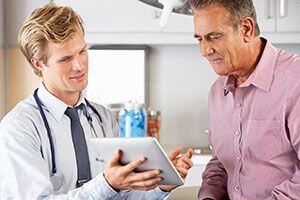 Using MedicsConnect, your transcribed reports not only flow directly into your referring physicians' networks, but they also become immediately available for uploading into their EHRs!
Operating under a secure file transfer protocol (SFTP), MedicsConnect converts completed reports into EHR-readable HL7 format, and upon finalization, transmits them to any referring physician's unique static IP address.
Your Radiology practice can now connect to 100% of your referring physicians using MedicsConnect.
The expense of having to implement dozens and dozens of customized HL7 interfaces is alleviated with MedicsConnect.
MedicsConnect™ gives your practice a powerful marketing tool while providing major benefits to your referring physicians.
The power of MedicsConnect is extraordinary, and it is only one of the many features available with MedicsRIS™ from ADS.
You may also want to review our MedicsDocAssistant™ EHR for Radiology. Your Radiologists can capitalize on the Stimulus Act's financial incentives for EHR use with the MedicsDocAssistant EHR for Radiology.
ADS Customer Profile - Regional Radiology
Cloud / ASP or Customer Hosted:
Your Software, Your Way
MedicsRIS™ is available in the format best suited to your practice's needs, whether Cloud / ASP or Customer Hosted.

Cloud / ASP allows users to access the system via the Internet, without the need to install or support servers or software in the practice.
Customer Hosted is the configuration of choice for a practice that prefers to have the system residing on its own server.