Diagnostic and Interventional Radiology
MedicsRIS is equally as excellent for Interventional Radiology (IR) as is it for diagnostic radiology, with its ability process IR procedure and diagnosis codes as well as the full range of EDI related to IR.
In addition, our MedicsDocAssistant EHR handles IR procedures such as:
| | |
| --- | --- |
| | Catheter-directed infusions |
| | Placement of central venous lines |
| | Maintenance of dialysis access |
| | Biliary and urinary tract procedures |
| | Varicose and spider vein treatments |
Predefined IR templates, nurse workflows, pre- and post-operative picture capture, and discharge instructions are included in MedicsDocAssistant.MedicsDocAssistant is Dragon Medical™-compatible simplifying transcription within the system. And, our built-in Medics FlowText™ automatically inserts transcribed data into the correct fields in the patient's record!
MedicsConnect™: Built In for Secure Transmission of Radiology Reports and helps keep referrers referrring!
MedicsConnect is a dynamic document delivery system that seamlessly connects to your referring physician community by overcoming the age-old problem of getting your transcribed reports to them cleanly and effortlessly.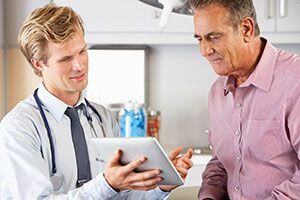 Using MedicsConnect, your transcribed reports not only flow directly into your referring physicians' networks, but they also become immediately available for uploading into their EHRs!

Operating under a secure file transfer protocol (SFTP), MedicsConnect converts completed reports into EHR-readable HL7 format, and upon finalization, transmits them to any referring physician's unique static IP address.

Your Radiology practice can now connect to 100% of your referring physicians using MedicsConnect.

The expense of having to implement dozens and dozens of customized HL7 interfaces is alleviated with MedicsConnect.

MedicsConnect™ gives your practice a powerful marketing tool while providing major benefits to your referring physicians.

The power of MedicsConnect is extraordinary, and it is only one of the many features available with MedicsRIS™ from ADS.
MedicsRIS & Merge's iConnect® Network
Optionally, MedicsRIS is also enabled to access the Merge iConnect® Network an advanced interoperability network that enables providers and imaging centers to exchange imaging information electronically with community physicians that are connected to health information exchanges or EHR networks.
• iConnect Network is enabled via MedicsRIS.

• Radiology reports are automatically transmitted to your referring physicians via its
partnership of networks.

• Not just transmitted...the reports are received directly into your referring physicians' EHRs.

• Reports can contain a link instantly displaying the patient's images, eliminating the usually-required
second, separate step in retrieving images.

• Transmission via iConnect Network and its partners is done using modern web-based technologies.

• iConnect Network will help referring physicians meet Meaningful Use Stage 2 imaging requirements.

What's more, there is no cost to referring physicians for their ability to obtain your reports through MedicsRIS and iConnect Network. All of this, without having to build expensive, point-to-point interfaces.
Eliminate the faxing scenario and ensure your reports are delivered securely, directly to the referring physician's EHR. You'll know when they are received, your MedicsRIS system will know and so will your referring physicians.
Why ADS?
Advanced Data Systems Corporation is a pioneer and leader in providing innovative software solutions for imaging centers. That's why over the years, so many of radiologists and imaging centers have come to rely on and trust ADS to provide the finest in cutting-edge Radiology Information Systems.




In addition to MedicsRIS, our MedicsDocAssistant EHR for Radiology V.7.0 is certified as a complete EHR for Stage 2 Meaningful Use, helping non-hospital-based radiologists obtain the maximum Medicare / Medicaid incentivesto which they are entitled.
Key Features