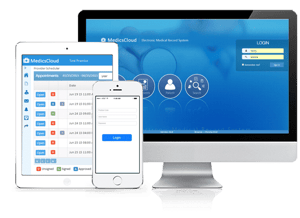 The MedicsCloud Suite for Pain Management is a secure, mobile-friendly, integrated EHR and PM platform for maximizing revenue and productivity while keeping you and your patients engaged and connected:
Excellent for Pain Management practices that also need Ambulatory Surgery Center (ASC) functionality and features
Certified for CMS Initiatives:

MACRA dashboard built in for compiling and reporting MIPS / APM data
Chronic Care Management (CCM) and Transitional Care Management (TCM)

Use the secure MedicsPortal and MedicsKiosk making your Pain Management practice accessible to patients 24 x 7 creating efficiencies for them and you
Integrations with a variety of diagnostic equipment
Digital Imaging: The ability to store the patient's images directly as part of their Pain Management record for easy viewing and retrieval. PACS interfaces are available.
Virtually Click-Free Pain Management EHR
The MedicsCloud EHR is essentially click-free and voice navigable through our built-in Medics FlowText utility. And working with almost any transcription system such as Dragon Medical™, FlowText intelligently data-populates the correct fields in the patient's record as the report is being transcribed. This voice-to-text-to-data-entry capability allows the transcriber to complete the report - and have the data entered - in one pass! It also eliminates having to tediously place the cursor into the next field.
Streamline your Pain Management encounters, manage medications and prescriptions, and create an array of clinical reports with the MedicsCloud EHR.
Pain Management Practice Management Software
Wide-ranging Practice Management with MedicsPremier which supports:
an unlimited number of tax IDs, and entities (especially ideal for ASCs)
nearly 100% success rate on first attempt clearinghouse claims
HCFA, UB, workers compensation and no-fault claims
out-of-network alerts on scheduling with selections for in-network providers, if any
eligibility verifications on scheduling and any number of times in advance
access the Patient Responsibility Estimator on scheduling
additional, related pain management specialties such as physical therapy, neurology, etc.
multiple cases per patient and patient attorney management
Medics Denial Preventer® helps avoids many denials proactively
Medics Denial Manager for quickly editing and resubmitting any other denied claims
access to real-time Claim Tracking to ensure your claims are being processed
specialty-specific scheduling and workflow
management and financial analytics, KPIs, and dashboards
month-end closings to ensure comparative data integrity
built-in purchasable products manager with sales tax calculations and separate payment window
MedicsRCM Pain Management Medical Billing Services
If comprehensive, outsourced medical billing and revenue cycle management is preferred:
increasing clients' revenue often by 10%-20%
our outsourced workforce helps consolidate clients' staffing issues
clients always have transparent, on-demand access to all of their data
"The Medics Suite is excellent for pain management with its ability to record our patient's clinical, medical, and radiological data. The system's templates for pain management are robust and inclusive and the efficiencies produced by the system are remarkable!"
Ravi K. Venkataraman, MD
Ravi Venkataraman MD & Pain Management Associates