MedicsPremier is the Ultimate Practice Management & Medical Billing Software.
Healthcare providers, administrators, and revenue cycle management companies are demanding more from their practice management software and medical billing software than ever before, with a constant need to increase efficiency and reduce costs while providing high-quality service.
Flexible. Reliable. Easy-to-Use.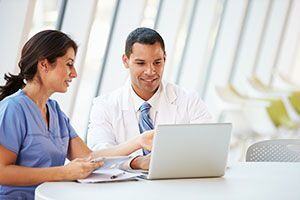 MedicsPremier has been designed from the ground up to make every task easy and intuitive to complete, with the least possible number of mouse clicks. A powerful built-in workflow feature further streamlines routine tasks.
MedicsPremier delivers the best in electronic claims, insurance eligibility verification, reconciliation, appointment scheduling, reporting, and more.
Using the Medics OnCall capability, users can remotely connect with MedicsPremier for a variety of functions such as accessing patient demographics, scheduling or viewing appointments, posting diagnoses and procedures, and more. This is excellent for hospital rounds or whenever access is needed remotely.
MedicsPremier is the most customizable solution on the market, allowing virtually any screen or workflow to be fully customized for each user, independent of other users.
Cloud / ASP or Customer Hosted:
Your Software, Your Way
MedicsRIS™ is available in the format best suited to your practice's needs, whether Cloud / ASP or Customer Hosted.

MedicsRx™ Cloud / ASP allows users to access the system via the Internet, without the need to install or support servers or software in the practice.
MedicsRx™ Customer Hosted is the configuration of choice for a practice that prefers to have the system residing on its own server.