MedicsDocAssistant™ EHR / EMR Software is now Stage 1 and 2 Meaningful Use Certified!
MedicsDocAssistant™ presents a dynamically powerful EHR / EMR solution, with industry-leading features. The primary advantages ADSC clients enjoy by using MedicsDocAssistant EHR include the following benefits:
The Benefits of Utilizing MedicsDocAssistant™ EHR Software
Increased efficiency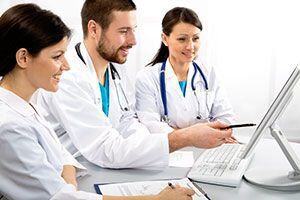 Patient information is readily available, saving time and effort while reducing the need to store paper records and files.
Improved documentation
This eliminates illegible handwriting, links related records electronically, reduces data entry errors, and helps eliminate missing/required patient information.
Improved quality of care
With complete and immediate access to patient records, providers are able to provide better, faster, more personalized attention, raising the level of both medical and personal care.
Improved security
Unlike a manual, paper system which gives access to anyone, role-based security in MedicsDocAssistant allows only authorized personnel access to medical records. MedicsDocAssistant data can be backed upremoving the risk or fear associated with paper records being lost, misfiled, or destroyed by fire or flood.
Reduced documentation expenses
The need for outside transcription is eliminated when using Dragon Medical™ with our own built-in Medics FlowText for inserting data directly into the patient's MedicsDocAssistant record. Click the "View Features" button below for a quick video on Medics FlowText with Dragon
Robust, time-saving features
Revolutionize any medical practice by eliminating redundancy and manual labor with MedicsDocAssistant's automated superbills for "on the fly" posting of procedures and diagnoses for quick billing, electronic prescribing, automated lab requests and results, accurate E/M coding, automated health alerts for continuity of care, and so much more.
Key Features