Healthcare Advice | Value-Based Care | Patient Portal | Medical Practice
Even though medical professionals undergo many years of education and training, most of them aren't trained on how to successfully run their own business. Unlike just a few decades ago, attracting new patients today to a medical practice can be more complex. This is mainly because of the digital age in which we live. However, with the right strategies and tools, you can grow your practice. Here are 10 basic tips on how to grow your medical practice in 2019, along with a few considerations and warnings.
Electronic Health Records | Medical Practice | Practice Management System | Electronic Medical Record
The Two Departments of a Medical Practice In the most common medical practices, whether general practice or a specialty practice, the office usually functions as two departments: the clinical staff and the administrative staff, as found on Chron. As mentioned, some practices may have "clinic heads and ancillary clinic providers".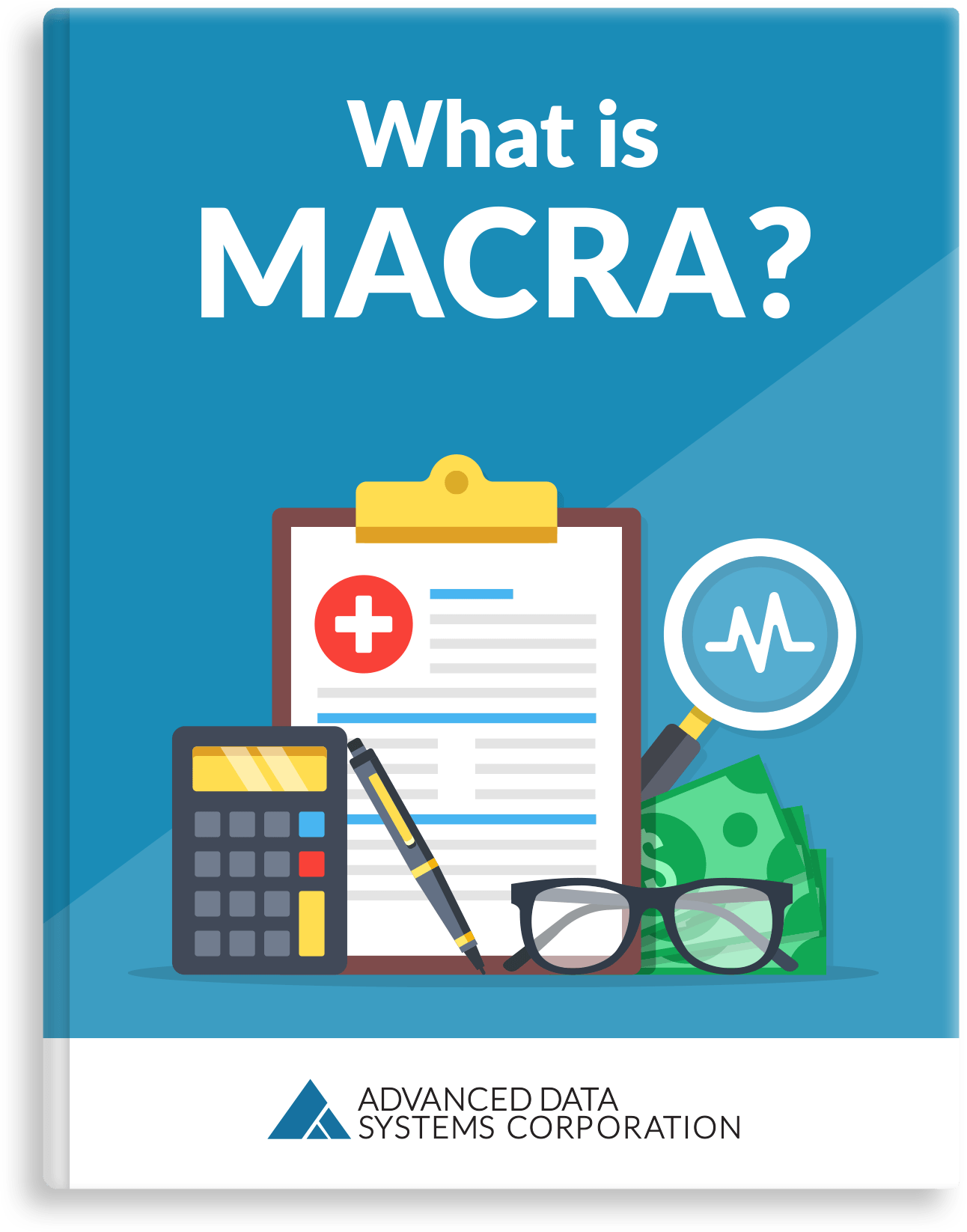 What Is MACRA?
There are many aspects of MACRA, and it's important you're familiar with all of them.
Medical Billing / RCM | Electronic Health Records | Healthcare Advice | Patient Portal
Forecasts for Health Care Technology One area that is on the front burner of health care is the "push toward truly digitized health care," as found on Forbes. At Advanced Data Systems Corporation (ADS), we are hearing and reading how providers are "feeling the pain" with electronic health record (EHR) integration. We are here to help providers meet the challenges, and learn how to get the advantages an EHR offers.
Industry News | Healthcare Advice | Patient Portal | Telemedicine Software
With the popularity of telemedicine on the rise, countless healthcare providers find themselves wondering whether or not they, too, should take the plunge towards modernization. Since the American Telemedicine Association's founding in 1993, motivated individuals within the community have been pushing to expand telehealth technology companies and boost patient access to care; now, as many as 90% of healthcare executives have moved to develop or implement telemedicine programs into their organizations.
A Radiology Information System (RIS) is an essential software platform for any radiology practice. RIS complements other critical elements of a healthcare system such as electronic health records (EHR) and the picture archiving and communication system (PACS). RIS stores and organizes a large amount of patient information; radiology professionals should familiarize themselves with the varieties of information that a typical RIS system processes.
Medical Billing / RCM | Industry News | Healthcare Advice | AI
Advanced AI Creating New Avenues of Healthcare Efficiencies First, there was artificial intelligence (AI) that made machines capable of following mathematical directions to capture and store intelligence. Then came machine learning (ML), which advanced the machine intelligence to use collected data to make predictive solutions. We now have deep learning, a more intelligent subset of ML that is based on the human brain. As found on Medium, "Artificial Intelligence would be the bigger, encapsulating circle that contains Machine and Deep Learning".
Electronic Health Records | Industry News | Radiology Information System
One of the greatest challenges in providing excellent patient care is inefficiencies in data processing. This ranges from new patient processing to scheduling, initial consultations, and follow-up appointments to billing for services. The best radiology information system alleviates the day-to-day pressures of inefficient data entry and report generation giving you and your staff the time to do what you do best, take great care of your patients. Keep reading to learn more about what a radiology information system is and how it can improve efficiencies in your radiology practice.
Medical Billing / RCM | Electronic Health Records | Healthcare Advice | Radiology Information System
A reliable radiology information system (RIS) offers the electronic means to efficiently manage a radiology practice in all aspects that offer the best in patient care and practice management.
Medical Billing / RCM | Healthcare Advice | Patient Portal | Finances
High Deductibles Have Lead to Difficulties Collecting for Services Rendered One of the latest healthcare challenges for many Americans today are the out-of-pocket, healthcare expenses. It is becoming apparent that high-deductible healthcare plans can pose a financial risk to people of low-income and those with chronic illnesses as found on USC News. If patients, especially those with chronic illnesses, are struggling to pay their out-of-pocket deductibles, providers are going to have the hardship to collect for services rendered.
Medical Billing / RCM | Industry News | Finances | KPI
Why Key Performance Indicators (KPI)? It is becoming proven that any business should be tracking and analyzing those unique factors that are relevant to the success of their organization through their key performance indicators (KPI).